Box Sets & Print Collections
Years of printmaking and travel photography by artist Mark Samsonovich come together in a custom-built dovetail joinery box. Easily rotate your favorite prints throughout the year without having to re-frame simply by lifting the cover and replacing the top print. Display Cases are also wall-mountable, making for a sophisticated presentation of art.
Aroma Design Your Home
4 all-natural essential oil home fragrances and a line of unique diffusers intended to turn your home into a sophisticated symphony of scent.
+ Optional Aroma Diffuser
There is something subtilely profound about a room surrounded by flowers. It's hard to avoid using cliche's to describe the feeling, but the truth is, having a few of these in each room gives the body and mind a feeling of being amongst well-needed nature. 
Sometimes analogue ritual is just what we need to feel cozy and settled. Whether you're at your desk, in bed with a partner, or warming up to a good book, this diffuser and unscented candle is a healthy alternative to chemically-scented candles. Simply place a few drops of the 100% all natural oil on the cedar ball and enjoy. 
+ Optional Aroma Diffuser
Most of the tech accessories out there somehow compromise our nostalgic feelings of home. This phone stand with dried flowers looks like a minimalist vase on your table, desk, or nightstand when not in use. It's a way of keeping your tech-centric surfaces aligned to the aesthetic principles that make a place more inviting, sacred, and natural.
+ Optional Aroma Diffuser
May you be greeted with beautiful flowers and a delicate, sophisticated scent. An entryway shelf and key holder that features a vase for dried flowers and reeds diffusing one of our 4 essential oil home fragrances.
Fragrances 001-004 are designed to compliment each other and work harmoniously throughout your environment. Place aroma diffusers at key locations in your space to create a sophisticated experience of aroma.
A Symphony of Scent
Explore the All-Natural Home Fragrance Collection
At Key Locations throughout Your Space...
Custom Bouquets Available Upon Request
Traditional Block Prints Turned Wearables
100% Cotton | Soft Washed | Pre-Shrunk | Garment-Dyed | Heavy-Weight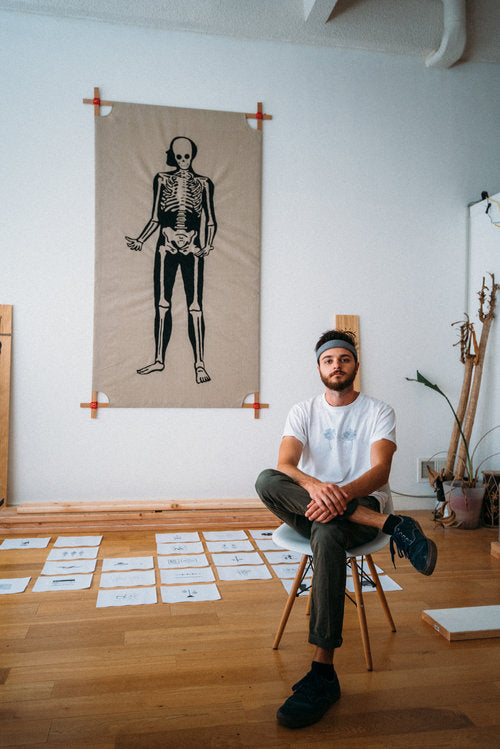 About
Mark Samsonovich got his start making some of the most viral art of the internet age. Over the past decade, his career has spanned visual art, photography, creative direction, film, industrial design, fashion, and entreprenuership. His work has been documented by nearly every major publication, including the New York Times, Wall Street Journal, Fast Company, Vice, Hypebeast, Variety, Design Milk, and more.